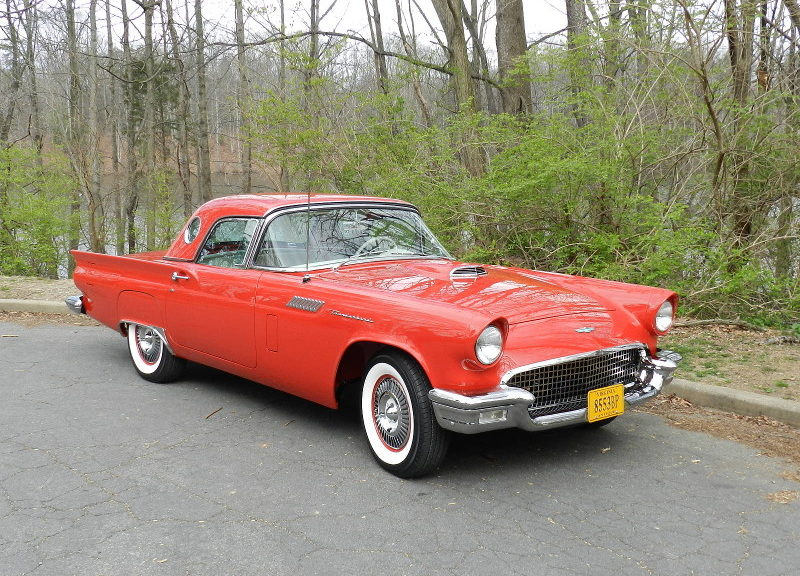 This classic came to us needing some TLC. It will be a body off driver restoration. At the time the car came to our shop, it was agreed by the owner to have a red exterior with white interior. The Thunderbird will have a matching red hardtop. It will have a 312 engine and a 4 barrel carburetor. It will have power steering, an automatic transmission, power brakes, TC radio, fender skirts, and wide white wall radials.
The doors, deck lid, and hood are chemically stripped down to the bare metal in preparation for the first step in the primer process.
The next step in the process is the primer. Our shop uses two coats of specific primer for etching. After this dries, the next step is to apply three to four coats of a urethane primer.
In these photos, you see what the body looked like before we started with the restoration process on it.
This next group of photos will show you the before and after of all the frame restoration. This happens before the body is painted, so it will be ready when it is time to lower the body on to the completely restored frame.
You saw the photos showing what condition the body was in when it arrived in our shop. Now you see below, how we fix those problems. Any areas that are too damaged, the metal is cut out and new is welded in its place. After this step, the entire body will be ready for the primer process.
These next photos show the body after it has been painted and polished. It is now ready to be lowered on to the fully restored frame and engine. Everything is aligned properly and double checked before it is bolted down. Re-assembly can start on the car after this step.
Now that the body has been put back on and the car back together. This beautiful transformation from blue to red is a real eye catcher. Now this beautiful car is ready to go home to its owner.
Our Location
Address:
29625 Bashan RD Racine, Ohio 45771
Phone:
740-949-2217
Hours:
Mon-Fri 7:00am-4:30pm
Saturday By Appointment
Sunday Closed
Our Services