Having a car restored at Hill's does have its rewards. Numerous automobiles restored at our facility have gone on to receive some of the country's most prestigious awards.
Schatz Memorial Award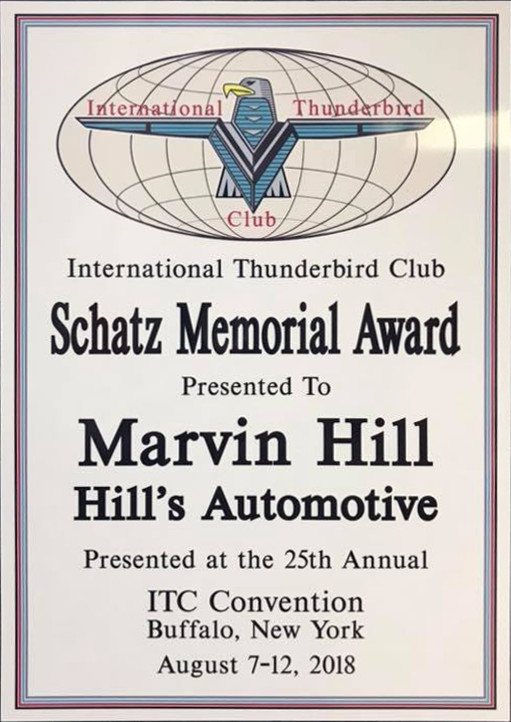 Hills Classic Cars had the pleasure to attend the 2018 ITC Convention that was held August 7 through the 11th in Buffalo, New York. Marvin is very pleased to announce that he had the honor to receive the Schatz Memorial Award for this years event. Marvin received this prestigious award for his dedication to the club and it was an honor.
1938 Cadillac
In 1938, this 60 Series Cadillac Convertible Coupe was delivered from the factory to Randall Cadillac Corp., Brooklyn, N.Y. This was the last model Cadillac with a rumble seat and was rare, as there were only 146 model 6167's manufactured in 1938.
In 2003, this rare car arrived at Hill's Classic Cars for a complete frame-off concours restoration. Since then, it has been invited to numerous shows and competed in eight national shows. The automobile won primary senior award at the 2004 Cadillac & LaSalle Club Grand National, with 99.5 point out of 100 points possible (all the accessories must function at the CLC Grand Nationals and the owner forgot to put the fuse back in the clock after removing it to save the battery). At the CLC Grand Nationals in Des Moines, Iowa, August 2005, it won senior status and a "Best of Show, Early" against some very stiff competition.
In AACA national meets, the automobile achieved first junior and first senior awards. Out of 5,320 vehicles shown or driven in AACA national events in 2004, 158 were nominated for national awards and this Cadillac was one of those nominated. It was awarded an AACA certificate as an Outstanding Vehicle in the Show Year 2004. In 2005, at the Denver, Colo., Grand National, it achieved a Grand National Senior award.
The Cadillac was one of about 300 vehicles from across the nation invited to the 2004 Meadow Brook Concours d'Elegance. There, it received the "Lion Award" in Class F, (American Classic Open Cars). It was also invited to the Third Annual Concours d'Elegance held on Hilton Head Island, S.C. There, it achieved a "Best in Class" 3 (American Classics 1936-1948) over 24 other fine automobiles in that class. It won Best of Class at Stan Hywet 2014.
1957 "F" Series Thunderbird
The "F" Bird was the factory equipped Paxton VR-57 supercharger and only 209 of them were ever built. This car appeared at CTCI and won People's Choice Award, Concours Gold Medallion (Senior) and at Hershey, PA in the AACA it took 1st Junior and Senior.
1951 Crosley Supersport
This car appeared at Hilton Head and received the AACA 1st, AACA Junior, and AACA Senior Awards. It, also, took 1st place at the Crosley Nationals.
1960 Ford Sunliner
This classic car took 1st Junior and 1st Senior in the AACA
1946 Hudson
Won 1st Junior AACA in 2015
1957 Ford Thunderbird "E" Code (Dual 4 barrel)
This car has won at the AACA 1st Junior and Senior, 1st Grand National Award, Best of Class at Hilton Head, and Best of Class at Stan Hywet.
1957 Pontiac Starchief Convertible (Tri-Power)
Has won 1st Jr. & Sr. AACA, 1st Grand National, Best of Class Hilton Head, and Best of Class at Pontiac National
1969 Dodge Daytona 500
This car has a 4-speed Hemi in it and very few were ever built. It has won Best of Class at Mopar National.
1957 Ford Thunderbird 2×4
This is an export car sold in Mexico. It has won the Gold Medallion and Excellence in Authenticity in CTCI.
Our Location
Address:
29625 Bashan RD Racine, Ohio 45771
Phone:
740-949-2217
Hours:
Mon-Fri 7:00am-4:30pm
Saturday By Appointment
Sunday Closed
Our Services