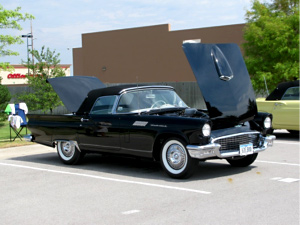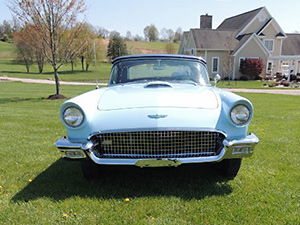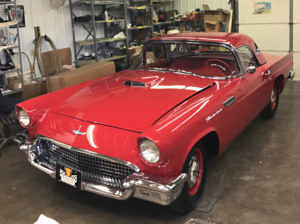 In 1957 Ford decided to add some power to their Thunderbirds. This brought about the production of the "F" Bird that had a more powerful super-charged engine. Ford built a total of 21,380 Thunderbirds in 1957 and only 212 "F" Birds were manufactured. Ford made this car more powerful by adding a 300 horsepower V-8 engine, so it could be in the NASCAR racing circuit. These "Battle Birds" were modified stock and made more aerodynamic for speed. The "F" Bird raced at the Daytona Spring Speed event that year, and was clocked at 138 mph. The rarest of these automobiles had a 3-speed transmission. At the end of 1957, Ford ended the production.
Here at Hill's Classic Cars, we have had the pleasure of restoring twelve of these classic "F" Thunderbirds. Three are in our shop currently being restored, as of June 8, 2020. Externally, you will see no difference with these classics. The difference is with the engines, transmissions, and some had heavy duty suspensions. This is why the super-charged "F" Birds are so rare. Which is one of the reasons they have became quite collectible and very desirable.
You can see some of the restorations that we have completed, and are currently working on, for our customers.
---
1957 Starmist Blue "F" Code Supercharged Thunderbird
1957 Starmist Blue "F" Code Supercharged Thunderbird that is one of three that were built with this color making it rarer yet. The interior is a two-tone Dresdon and Starmist Blue.The engine is a 312 supercharged 300 hp 8 cylinder. We searched for three years for this particular car, because of its color. The customer then asked us to do a full body off restoration using the Excellence in Authenticity Standards. The importance of the color was because the customer was a huge North Carolina Tar Heels fan and the color had to match as close as possible to North Carolina Blue.
---
1957 Thunderbird "F" Series Black
This is a Black 1957 "F" Thunderbird that has had a full body-off restoration by Hill's Classic Cars. The customer wanted the car to meet the concours correct standards. This supercharged Thunderbird has a rare 3-speed manual transmission, a 312 ci 300 hp engine of which only 12 were produced. It also has a VR-57 supercharger. The original cost for this car would have been $3,586.06, in 1957. In 2017, when this "F" Thunderbird was entered into Hilton Head Island Motoring Festival & Concours d'Elegance, it was listed as having 12 miles on the mileage and took home the Best of Class award. Other awards this car has received are the 1st Nominated AACA National Award, and at CTCI Excellence in Authenticity, Prime Original Award, Gold and Gold Medallion Awards. It received a 299.5 out of a 300 point system.
---
1957 Red Supercharged Thunderbird
The customer asked us to restore his car and build it to be a top show car using the C.T.C.I. standards. The options will include red exterior, red interior, red hard top, and black soft top. The car will have the same 312 supercharged engine with a three-speed transmission.
---
1957 Colonial White Supercharged Thunderbird
The original 15 performance cars were built specifically to run at the Daytona Speed Trials, to give Chevrolet some very stiff competition and that is exactly what happened. This new Thunderbird beat the time on the "Two-Way Flying Mile" at over 138 mph and beat the record for the previous year set in 1956 by 6 mph. Thus, the Ford Supercharged Thunderbird was born. Ford only built 212 of these supercharged classic cars and the last one was built in December of 1957.
This supercharged classic was bought new in Philadelphia, PA in 1957. In 1961, it was purchased by its second owner. Then, in December of 2019, our shop was approached by the new owner, to start an 18-month long restoration process that entailed a full body-off restoration that would meet C.T.C.I. concours authenticity rules and standards. This car is a low mileage survivor car with 41,000 original miles. The exterior is Colonial White, red interior, black softtop, and a white port hole hardtop. The rebuilt engine is a 312 supercharged 300 hp, 8-cylinder, it has an automatic transmission, radio, heater and defroster, black wall tires, and small hub caps.
---
F Thunderbirds
This restoration was completed and returned to its owner recently and we have it featured on our "F" Thunderbirds page. So, we were very surprised when our customer sent us these photos. This Colonial White classic had the honor of coming home with the "Most Significant Ford–The Chris Svensson Memorial Award" trophy from the 42nd Hagerty Events Concours d'Elegance of America 2021 car show that was held on July 23-25, 2021 at the Inn at St. John's in Plymouth, Michigan. We would like to share the photos with you and hope you enjoy them because it is quite an honor for Hill's Classic Cars.
---
1957 Supercharged Coral "F" Ford Thunderbird
When we started this project, we anticipated building this classic car to be a top show car using CTCI standards and the Excellence in Authenticity requirements. When it came off the assembly line, it was originally Raven Black on the exterior and the interior was white. The hard top will be Colonial White and the soft top will be black. We rebuilt the original 312 supercharged engine and automatic transmission. This car was fully loaded when it was brand new and included power steering, power windows, power seats, and power brakes. It had a Town and Country signal seek radio that had a new feature on the volume control that increased with the speed of the engine. It, also, has those awesome large tail fins so popular on the '57 Thunderbird, fender skirts and new wide white wall Firestone tires.
This car has a background story that you will find very interesting and enjoyable. It was previously owned by Mel Blanc and his son, Noel Blanc. Mel Blanc was the famous voice behind Looney Tunes, Merrie Melodies, and Hannah-Barbera such as Bugs Bunny, Porky Pig, Pepe Lepew, Foghorn Leghorn, Tweety Bird and Sylvester, Yosemite Sam, Speedy Gonzalez, Barney Rubble on the Flintstones, and Mr. Spacely on the Jetsons, just to name a few. When the classic came into the Blanc collection around 1988, there were only 8,500 original miles on the odometer when it received its first frame-off restoration and it had the original owner's manual and window sticker with it, too. It was an original California car when purchased by the Blanc's and had a detailed inventory of component stampings and the original factory delivery note. Mel Blanc had the car painted to his liking, which is the existing color called Coral.
The latest full body-off restoration was performed by Hill's Classic Cars in 2020/2021 for the new owner. Enjoy the photos we added below of this classic Ford "F" model Supercharged Thunderbird.
Our Location
Address:
29625 Bashan RD Racine, Ohio 45771
Phone:
740-949-2217
Hours:
Mon-Fri 7:00am-4:30pm
Saturday By Appointment
Sunday Closed
Our Services