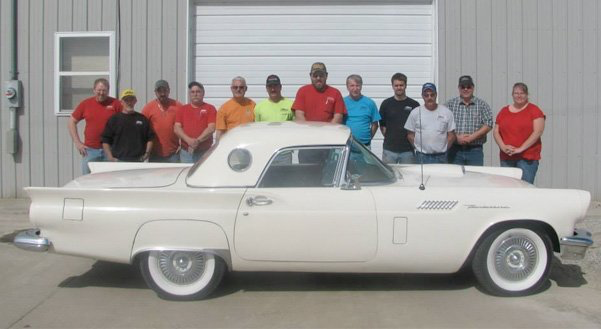 Hill's Automotive has been catering to the classic car enthusiast for over 35 years. Hill's Automotive has three different divisions. Our Classic Car Restoration Services, Classic Car Sales and our 55-57 Thunderbird Parts division known as Hill's Thunderbird Center.
Hill's Classic Car Restorations has continually restored some of the top show cars in the nation. Our award winning restorations have been judged and awarded "Best of Show", "Grand National", "Gold Medallion" and numerous other awards by CTCI, AACA, and various Concours d'Elegance shows. While best known for our frame-off concours restorations, we also perform resto-mod, street-rod, and driver quality restorations.
Hill's Classic Cars Sales consists of an ever-changing variety of collector cars from performance muscle cars to European sportsters. Not all of the cars we sell have been restored by us. In fact, many of the cars are offered for sale prior to restoration. For more details, check out our Cars for Sale section.
Hill's Thunderbird Center offers convenience in ordering top of the line parts for 1955, 1956, and 1957 Thunderbirds. Feel free to browse our catalog, order online or get in touch with any questions you may have.
As always, feel free to contact us to find out more about the classic Thunderbirds we have for sale, our restoration services and our selection of high-quality parts.
Check out a quick tour of our facilities:
Call Marvin Hill at Hill's Classic Car Restoration and Parts, Inc., Racine, OH at 740-949-2217 or Fax: 740-949-1957 for more information.
Our Location
Address:
29625 Bashan RD Racine, Ohio 45771
Phone:
740-949-2217
Hours:
Mon-Fri 7:00am-4:30pm
Saturday By Appointment
Sunday Closed
Our Services