This car came into the shop in beautiful condition, but the owner wanted modern modifications and some custom work done to make it more appealing. The exterior will be remaining black, full one of a kind interior with leather custom two tone with leather two tone diamond pleated seats, including chopped top, shaved door handles, widened fenders, custom running boards, tucked bumper, custom-built firewall, and floor pan, all built in-house, custom-built dash and center console. It will also include a 2017 Mustang steering column, steering wheel, shifter, and door panels. The center console will be wrapped in the same beautiful brown two tone leather also. It has a pioneer 10.1" touch screen radio that handles the navigation, backup camera, handsfree and even Alexa. The wheels are Chip Foose Designs custom built to our specs, 17×7 in the front and 17×9 in the rear. It will have a custom-built TCI chassis all box tubing, 4 link rear suspension, Mustang 2 front, QA1 coil-overs all 4 corners, 4-wheel Wildwood disk brakes, rack and pinion steering, 5.0 Ford Coyote engine carbon fiber accents, custom tubular stainless headers, custom side exit stainless exhaust built in house. Also, it has an 6r80 six speed automatic transmission and aluminum driveshaft. This car is true beauty with all the modern everyday needs.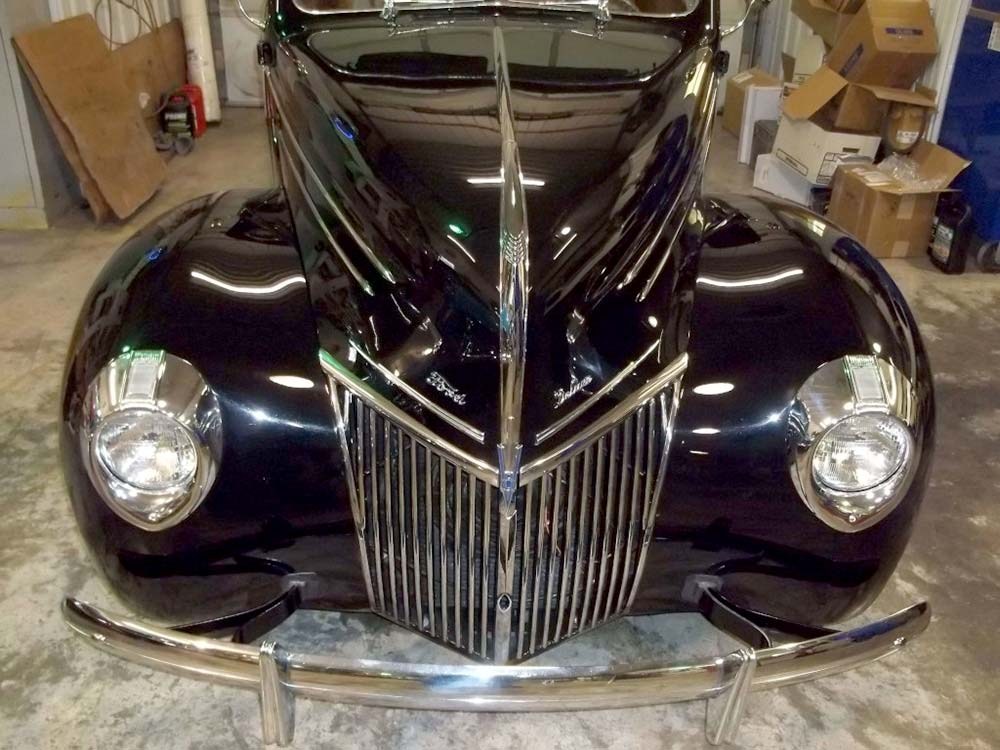 We will be starting the restoration process with disassembly, and that means removing the body and engine from the frame of the car. Every part of the car, from the nuts and bolts to the fenders and bumpers, is inventoried so every piece can be repaired and restored.
We have already started to restore the interior with the two-tone leather. Using the darker of the two-tone leather for the dash and using both of two-tone leather for the beautiful diamond pleated seats. That gives it just the right touch of elegance to an already beautiful car.
We have started the process of repairing the '39 Ford's body by removing the paint, fixing any area that needs to be repaired.
Now we are on to the primer. The car will get primed and sanded down until it ready for everything to be painted.
These are some of the finished photo's of the beautiful 1939 Ford. It was completely restored.
Our Location
Address:
29625 Bashan RD Racine, Ohio 45771
Phone:
740-949-2217
Hours:
Mon-Fri 7:00am-4:30pm
Saturday By Appointment
Sunday Closed
Our Services